Featured
All in, Al Fresco – Week 3
By Melody Pereira
Welcome back to All in, Al Fresco! My name is Melody (she/her) and I am the Downtown District's Marketing Assistant Summer Student for 2021. Follow along with me each week for updates as we dive into the details of all the exciting things that will be happening at our hugely successful summer event – Al Fresco.
Al Fresco is back for its second year this summer until August and we are so excited for all the fun to be had. Al Fresco means "done or eaten in the open air" and this signature event is designed so that visitors can enjoy the summer rays while supporting the downtown business and promoting community!
So, get ready to come do it Al Fresco in the District with me!
---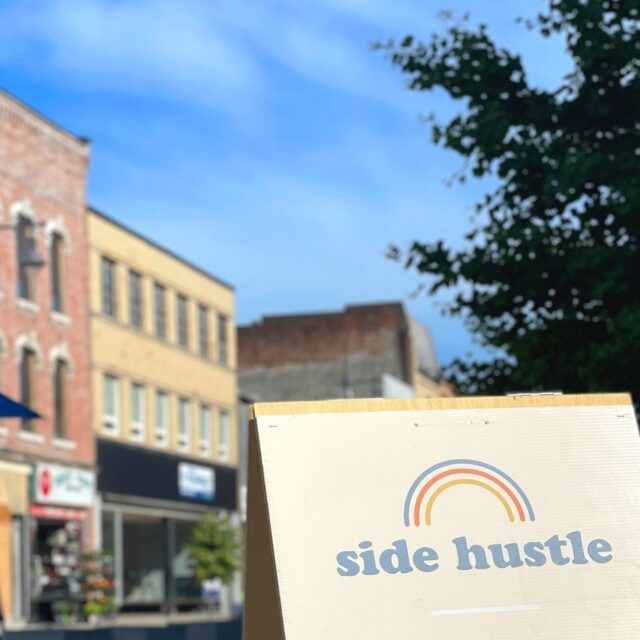 Hustle Over to The Market
The Side Hustle Market is back – and it's bigger & better! Join us this Friday from 5-9 in the street closure and support a large group of local artisans. Splurge on bunches of unique handmade goods for your home, your pets, and your people. Summer nights and local shopping – can't get much sweeter than that! But wait, it does. The Sweet Retreat will be joining the market and will be ready to treat you to some sugary sweetness. Pick up some yummy cotton candy on your way to power up your shopping trip!
While you're out at the market, be sure to stop by our lovely downtown businesses which will be staying open late this Friday for your convenience!
Free Games on Front!
FREE GAMES DOWNTOWN … Need I say more? Thanks to Scalliwag Toys, we are offering fun and games in the streets right here in the heart of the Downtown District! Each Thursday and Friday from 3-5 pm, come meet me on Front Street to join in on the excitement of Ladder Ball and Giant Jenga. Whether you're the competitive type or you just play so that everyone can have fun, we want you out here with us!
Park n' Go
Wondering where to drop the car while you get out and enjoy Al Fresco? Look no further. Beyond our incredible businesses, our Downtown District is home to just under 1000 parking spaces within the District's 3 block radius. This gives you the opportunity to park just steps away from your favourite store or restaurant.  We are challenging all able-bodied visitors to utilize the municipal lots surrounding the Downtown District for parking, encouraging them to park and walk to the core for the fun. This helps ensure that individuals with mobility challenges are able to use the closer street parking when needed. For more parking and transportation details, visit: Getting Around – you gotta get here!
Tête-à-tête Thursdays
Loving the colour that our new tête-à-tête chairs bring to the District? Show us some love and grab a picture under those colourful umbrellas for a chance to WIN! We're back with another Tête-à-tête Thursday where you can win a brand-new collectible Al Fresco t-shirt in 3 easy steps.
Take a load off and relax in one of our 8 new tête-à-têtes (Easy, right?)
Take a photo in your spot
Post your beautiful photo to social media and tag us @downtownbelleville for a chance to win
Want an extra chance at the new Al Fresco gear? Grab a bite from one of our incredible downtown businesses and include the yummy food in your photo to win a double entry. Winners drawn every Friday… ready, set, GO!
Music in The Air Fridays
Time to get out and finally enjoy the sounds of summer in the District as our fabulous businesses host live musicians for your entertainment! No better way to close off the week and have a huge start to the weekend. Check out Gourmet Diem, Sans Souci, Capers, Uptown Funk Styling and Smokin 116 Bistro online regularly for updates on who is playing and where.
Looking to enjoy some more tunes in the summer air? Get pumped for a live show this Sunday at The 116 Bistro. William "Elvis" Young will be ready to rock your world at 12:00 and 2:30 pm, so if you want to get in on some food, drinks, and live music, be sure to call and reserve your seats.
The Export Grill
182 Front Street 
Patio season is in full force and we've got the perfect spot for your next lunch or dinner under the sun! The Export Grill is a guest favourite and provides its customers with a VIP dining experience right here in downtown Belleville. With craft beer, good spirits, and food of all kinds – The Export Grill promises fantastic food, great beverages, and unparalleled service. With a new patio for the season, the atmosphere is ideal.  Check out their Facebook page for the latest Export Features, and get ready to experience gourmet food at its best.
Bazaar Artisan Market
318 Front Street
A true one-of-a-kind shop, right in the Downtown District! This spectacular shop will blow you away with hundreds of diverse artisan products from artists all around Ontario – a true must-see! Incredible talent at your fingertips with products ranging from handmade jewelry to fun games, glasswork, knit cardigans, and everything in between. What makes this shop extra special? They show true dedication to their vendors and artists supplying them with 100% revenue on their products! Come and celebrate local artists at Bazaar Artisan Market and be sure to check back frequently as new artists and products are constantly incoming.  That's not all … Have a young artist in the family? Bazaar Artisan Market provides a unique opportunity for youth art displays to give little entrepreneurs the space to grow as artists and develop their creative edge through their showcases! Drop into the shop anytime from 11 – 5 pm, Tuesdays to Saturdays.