Retail
Your Guide to Shopping Locally
By: Meera Moorthy
When you think about a fast-food chain or a clothing brand, you know exactly what you're getting even before you go. It's easier to pick the safer, more well-known, and comfortable decision than it is to set out and explore a local space where you don't really know what you might find. Luckily, we've compiled this list of local 'similes', where if you know what you want from a Bigger Business, we can help you find a version right here in Downtown Belleville. 
---
Womenswear
If you're interested in thrifting and vintage shopping, we have a couple stores that might interest you. Go way back in time through Boretski Gallery who professionally curate vintage accessories, clothing, and jewelry. They have fashion from the early Victorian period and all the way up to the 1970s. If you're looking for something a little newer but still classic, try Miss Priss or Pure Honey Boutique. Both stores also curate vintage items and other sustainable fashion pieces from more recent years.
If you're looking for statement pieces and accessories to spice up your wardrobe, check out That Special Touch or Thomas Esteves Design. That Special Touch features various unique ladies' fashions and accessories that you won't be able to find anywhere else. Thomas Esteves Design curates jewelry and accessories as well as selling pieces made by local artisans. If you're interested in quality craftsmanship and beautiful jewelry, check out Village Goldworks, your friendly neighbourhood jewellers.
Menswear
If you're looking for a new suit or a formal outfit, try Lafferty's Crossings. They have a range of formal menswear from clean and classic to funky designs and specialize in creating a clean comfortable atmosphere to shop in. If you're looking for something a little more casual, check out Park Provisioners for business casual outfits and accessories. They also double as a Barbershop and Haberdashery if you're looking for a well-rounded shopping experience.
Lifestyle
If you're interested in wellness items or unique niche pieces (like an iron rooster or maple syrup candles), try Happy Buddha. They sell a variety of eclectic goods from tarot cards and crystals all the way to healthy snacks and aromatherapy oils and bracelets. Try Gems of Wellness as well for practitioner-grade dietary supplements, essential oils, and aromatherapy jewelry and candles.
Arts and activities
Interested in making art or purchasing higher-quality art supplies? Try Barratt's Office Pro. Step inside to find a consolidation of any stationary aficionado's favourite products. From paint palettes to pens to sketchbooks, this store is the perfect place to stock up on supplies. If you're looking for a place to buy locally sourced art pieces, try the Bazaar Artisan Market who sells goods made by artists from all over southeast Ontario. You can find paintings, beadwork, sculptures, and more!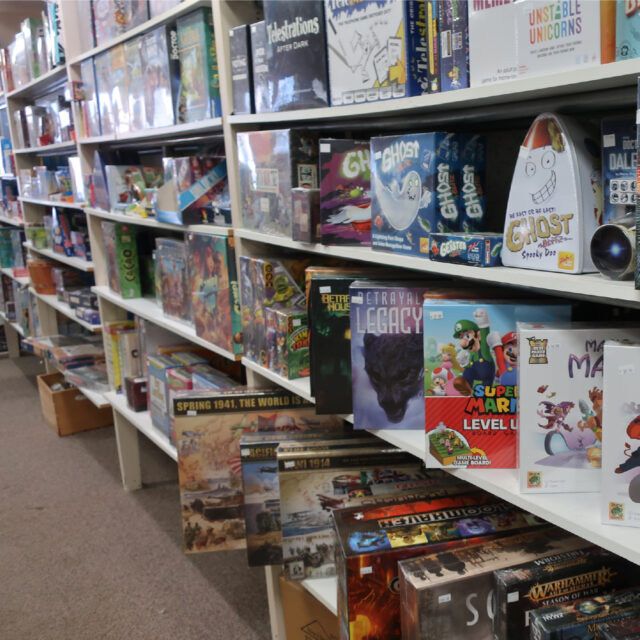 Stop by Scalliwag Toys for an assortment of what is probably every single board game you can think of plus ones you've never seen before. Before buying virtual games, movies, or consoles brand new, see if Chumleighs can find you a used copy at a much better price.
Shoes & Eyewear
While you're out travelling the streets of Downtown Belleville, try Sole Solutions for some orthopedically supported footwear. Also, be sure to check out Essenzia Eyewear for designer and brand name glasses frames! You can walk and see with style when you shop at Downtown Belleville.