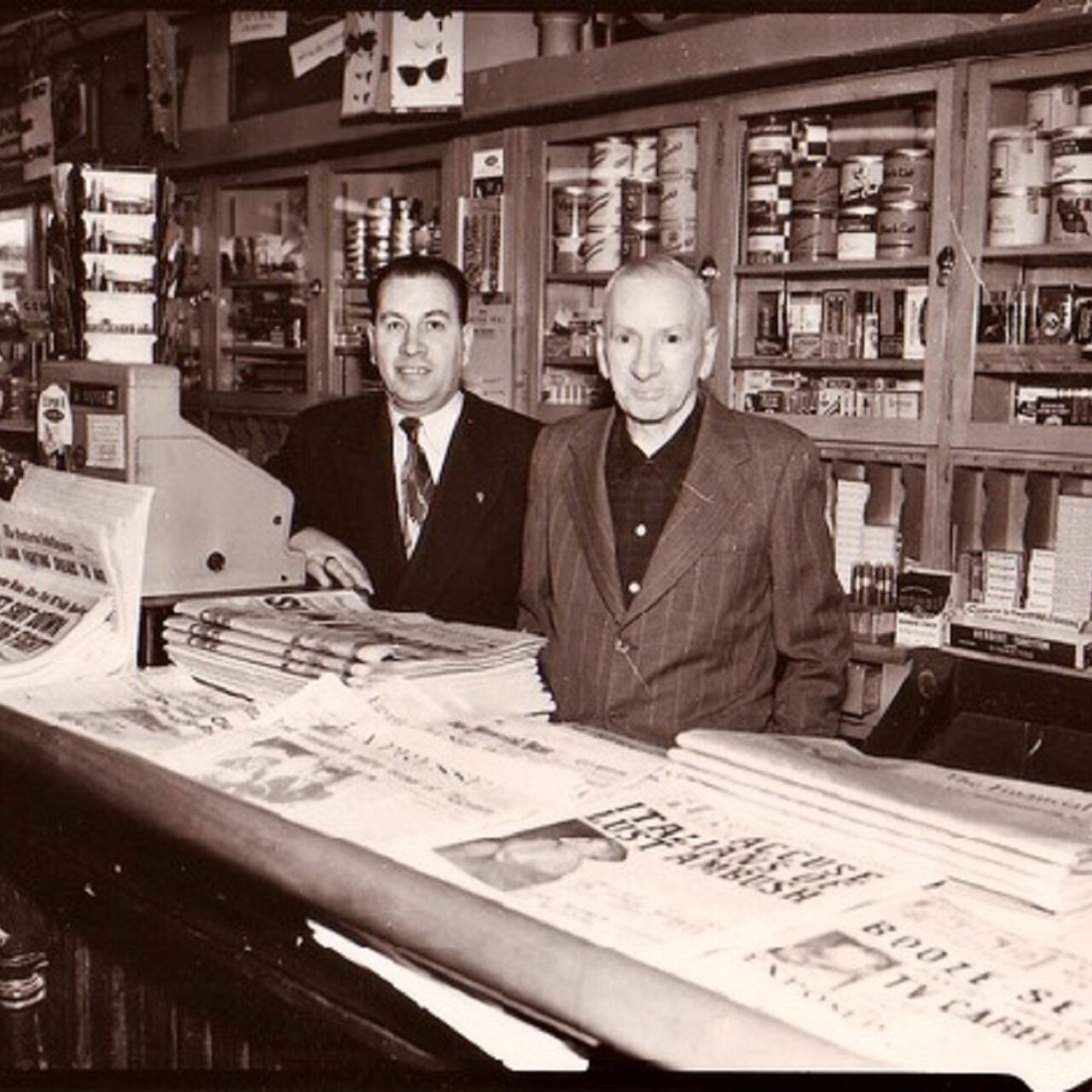 Featured
The Thomas Twosome
Author: Connie Carson
Connie is a well-known local story-teller and professional who has a passion for the history of the City of Belleville, in particular, the downtown streets.
---
The very first rung on my career ladder was delivering papers in downtown Belleville for The Intelligencer at nine years of age. I would finish deliveries every afternoon around 5 pm and drop my last paper of the day next door at Ed Thomas Cigar Store located at 182 Front Street in downtown Belleville.
The Thomas Twosome Ed and Don Thomas greeted me every afternoon with a big hello and a delicious ice cream cone followed by a chewy liquorice cigar. I literally had a cigar hanging out of my mouth the whole two years of my paper route.
The smells that still bring back memories for me are a heady combination of newsprint, pipe tobacco, candy, sawdust, and a pungent minnow smell that came from a minnow tank at the end of the long wooden bar.
Every Friday they gave me a rolled-up magazine wrapped in string and a 25 cent tip.  I  LOVED listening to the never-ending stories from the customers although sometimes they would become a bit off colour and I would inevitably hear the phrase "little pitchers have big ears" from one of the guys and the conversation level would drop significantly.
I soaked every story and adventure up like a sponge.
The building started off as a fur trader outpost and general store but the colourful history of this small, unassuming stone building was larger than life. In the bygone days of the late 1800's the rowdy poker games upstairs and the heated gambling discussions that sometimes led to fisticuffs were the talk of the town. Ed would charge the gentlemen 25 cents to join a poker table.
Every payday the local railway workers lined up all the way to the 4 corners to get their cheques cashed. Don and Ed were happy to cash the cheques because the brothers handed over the paper money and kept the change.
It was a great time to be a budding entrepreneur in downtown Belleville!
This building is now home to the Export Bar and Grill in the Downtown District.