Featured
All in, Al Fresco – Week 5
By Melody Pereira
Welcome back to All in, Al Fresco! My name is Melody (she/her) and I am the Downtown District's Marketing Assistant Summer Student for 2021. Follow along with me each week for updates as we dive into the details of all the exciting things that will be happening at our hugely successful summer event – Al Fresco.
Al Fresco is back for its second year this summer until August and we are so excited for all the fun to be had. Al Fresco means "done or eaten in the open air" and this signature event is designed so that visitors can enjoy the summer rays while supporting the downtown business and promoting community!
So, get ready to come do it Al Fresco in the District with me!
---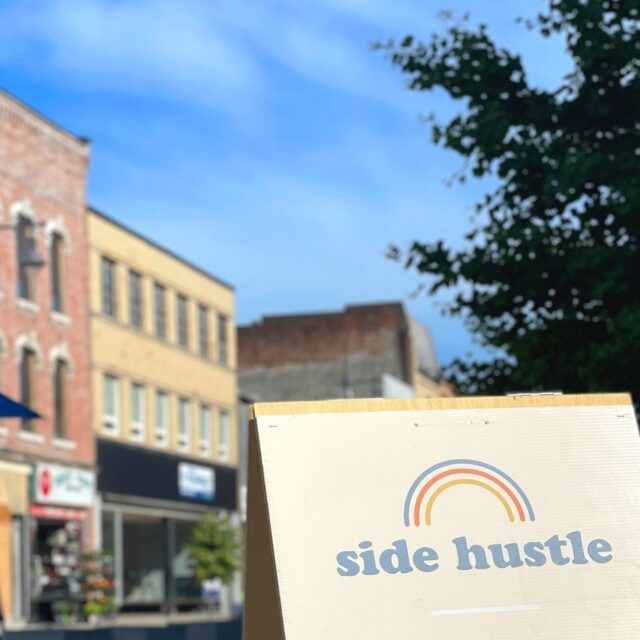 Meet us at the Market!
Rain, rain, go away! Good news, the downtown market featuring Side Hustle is coming back to the Downtown District this Saturday, July 24 on a rain date following the cancellation last weekend. From 9am – 1pm make your way to the street closure on Front Street for amazing finds from local artisans. With many different unique products from hand soaps to hair scrunchies, there truly is something for everyone! Whether you're buying for a special someone, your kids, your pets, or yourself, the Side Hustle market is THE spot for you this weekend. Check out the morning market lineup on the Side Hustle Instagram or Facebook page to see what we've got in store. Meet ya at the market!
Tête-à-tête Thursdays
Ready, set, WIN. Our tête-à-tête chairs have been carefully curated and beautifully designed by our local artists and sponsored by incredible businesses. Head downtown and snap a photo in one of our beautiful tête-à-tête chairs and post it to social media tagging @downtownbelleville for your chance to win one of our sweet new collectible shirts. Hungry? Get your "foodie" on and grab some takeout from a local restaurant and include it in the picture for double the chance to win! A winner will be drawn every Friday, so look out for our special prizes weekly.
Music to your ears!
Join us for our classic Music in the Air Fridays and enjoy some live tunes under the summer sun. Our local businesses are excited to be hosting live musicians on Fridays throughout the summer for your entertainment. Be sure to check out Gourmet Diem, Sans Souci, Capers, Uptown Funk Styling, Smokin 116 Bistro and Export Grill online regularly for updates on who is playing and where. Great weather, great music, and great food – name a better trio, I'll wait…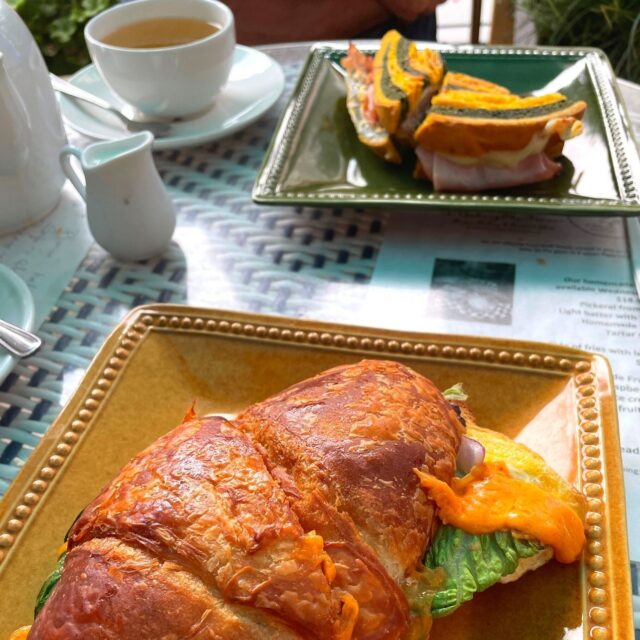 Easy like a Saturday Morning…
Up and at 'em! Join us this Saturday morning in the Downtown District as we dive into the weekend with some delicious breakfast eats from our favourite local spots. Croissants, crepes, egg sandwiches, and more … do your taste buds a favour and come check it out!
Quinte Corner Cafe opens at 8am
The Brake Room opens at 8am
Gourmet Diem opens at 9am
L'auberge de France opens at 9am
Sans Souci opens at 9am
The 116 Bistro opens at 9am
Kate's Kitchen is now carrying "Mabel's Bagels" – authentic Montreal style bagels to sweeten up your Saturday morning. Grab a fresh bagel along with a variety of other gluten-free treats this weekend, opening at 10am.
FEATURED BUSINESSES OF THE WEEK:
UpFront Gallery
313 Front Street
Is your home starting to look a little 'blah' after too much time spent inside quarantining? Are you looking for ways to step up your design game or spruce up that furniture and window coverings? Dianne at UpFront Gallery will show you around her carefully curated collection to fulfill all of your needs. UpFront Gallery specializes in window coverings, design consulting, floor plans, staging, and sourcing of furnishings, finishings, and artwork. They are committed to providing you with an amazing experience and offer lifetime warranties on window coverings and manufacturers warranties on all furniture. Come down to the UpFront Gallery or visit virtually and be ready for your home to step it up!
The Lark
199 Front Street
What other than the home of Bay of Quinte's best-voted cocktails?! This amazing wine and cocktail bar will WOW you with its delicious drinks and gourmet eats. From tuna tartare to Asada tacos, their delicious food menu will blow you away and make for great pairings with famous beverages. It doesn't stop there, the pink and blue accents and beautifully designed interior give you the perfect aesthetic to enjoy while diving into some great eats. Check out the photos below for a sneak peek at your perfect dining experience. The Lark is a summer MUST! Follow along on The Lark socials for updates and special events.